Durban Waterproofing - Waterproofing Experts
Waterproofing Contractors for Residential, Industrial & Commercial Buildings in Greater Durban Area
Waterproofing in Durban is a must if you intend to protect your most valuable investment against the effects of the natural elements. No matter what state your home, Office Building or factory may be in it's of the utmost importance to keep your investment in tip top shape and leak free. Whether you have a newly built home with a re-enforced concrete roof slab, or a traditional tiled roof over your offices, to an old rusty galvanized interlocking industrial roof covering, there is no doubt that Kwa-zulu Natal's sub-tropical climate and average rainfall of over 1000mm annually will sooner or later require you the property owner to initiate some form of waterproofing service as and when necessary.
Depending on the roof structure or surface area that requires waterproofing, different specialised waterproofing Applications and methodologies may be implemented in order to effectively undertake the waterproofing process. Whether the waterproofing requirement is a Bitumen Torch-on Waterproofing System for a concrete roof slab, or foundation wall, or an Acrylic Waterproofing System for Roof ridging or Flashings, to a Cementitous Waterproofing System for balconies, patios or tanking of bathroom showers , it is always best undertaken by a proficient waterproofing expert or a specialised waterproofing contractor.
Expert Waterproofing Company in Durban
Durban Waterproofing is a qualified and specialized waterproofing contractor operating in the greater Durban Area. We believe that our reputation as an expert in the field of waterproofing has branded us as one of the best waterproofing companies to deal with in the Durban metro and surrounding areas. Our years of experience and knowledge in the waterproofing industry coupled with our service excellence guarantee and reliability in solving all types of waterproofing issues has put us at the forefront of our competitors.
Whether it's a FREE quote request, a roof inspection or any waterproofing requirements you may have, Durban Waterproofing is equipped and ready to offer you the very best waterproofing solutions that last. We cover all areas from Hillcrest, Pinetown and Kloof to Ballito and Salt Rock in the Dolphin Coast, other areas we cover is Westville, Berea, Morningside, Umbilo, Durban North, Umhlanga and Durban Central. Contact us now for a free quote.
Importance of Waterproofing
Effective waterproofing is a property owner's most important line of defence against structural weakening caused by water leaking into a building's roof, walls or foundations. Waterproofing or the implementation of a specialised waterproofing application to your property may look like an unnecessary expenditure on your end but waterproofing should be one of the first and essential improvements you the property owner should consider. The long term benefits of waterproofing make this a worthy investment as it is far better, and more cost-effective, to avoid rather than suffer a major calamity in the future.
Bitumen Torch-on Waterproofing Systems Durban
Bitumen Torch-on waterproofing technology has proven by far to be the most reliable technology in the waterproofing industry. The Torch-on Waterproofing system is best for flat concrete roof surfaces, foundation walls, retaining walls, flashings, parapet walls, expansion joints, roofing screws, and laps on corrugated & IBR roofs. Among the advantages and benefits of bitumen waterproofing is the fact that these products are suitable for total water immersion and subsoil applications making bituminous waterproofing products the best waterproofing application for sealing box gutters and flower boxes.
Torch-on Waterproofing Systems are polymer modified membranes used as Bituminous Waterproofing for substructures and roofs. Bitumen Torch-on Waterproofing is manufactured out of a mixture of bitumen and polymers like APP (Atactic Poly Propylene) or SBS (Styrene Butadiene Styrene) these enhance the temperature performance and elongation of the bitumen membrane. The mixture of bitumen and polymers are then coated onto a Polyester or Glass-fibre reinforcement membrane to increase the tear-strength and puncture resistance properties.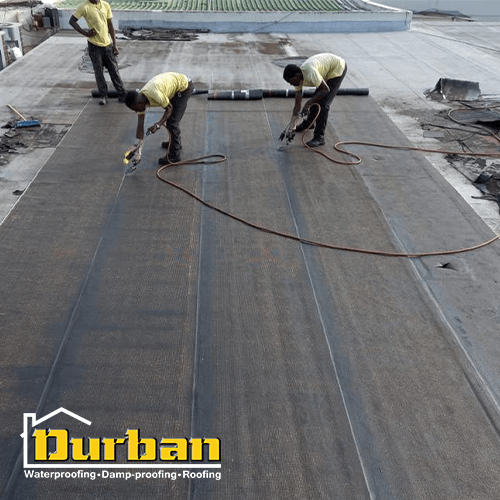 Acrylic Waterproofing Systems Durban
Apart from bitumen torch-on waterproofing systems, there is also the acrylic waterproofing systems that work best for waterproofing various roof surfaces and structures including total tiled roof areas, parapets, flashings, joints and roof ridging, cracks, roof screws and wall and chimney cappings. Compared with other waterproofing systems, the acrylic waterproofing application is suitable for any climate and most conditions but is not suitable for areas that are submerged with long periods of water, ponding or under balcony floor tiles.
Acrylic waterproofing bonds to almost anything- including wood, metal, asphalt, concrete, and foam insulation boards. The Acrylic waterproofing system consists of two primary components: a high quality elastomeric emulsion acrylic coating and a stich bond polyester reinforced fibre membrane. The S.B.P membrane is manually inserted between multiple layers of the acrylic waterproofing coatings when installed and this method creates a seamless, flexible waterproofing protective application with minimal maintenance required.
Cementitious Waterproofing Systems Durban
Waterproofing a bathroom shower, balconies or basements as well as any other constantly damp areas call for cementitious waterproofing systems or as called in the industry "Cement Waterproofing slurries". This specialised waterproof application technique is used for homes, commercial, and industrial properties requiring waterproofing for roof gardens, decks, balconies, planter boxes, and basements, these Cementitous waterproofing applications are also ideal for sewages, tunnels, ponds, and underground structures to protect it against corrosive decays.
Cementitous Waterproofing is a highly flexible, polymer-modified cement based membrane, which can be easily applied by brushing the product onto the substrate or structure, it is scratch resistant and has an exceptional load-carrying capacity. The main advantages of cement-based waterproofing applications are their tremendous resistance against water and against long term weathering even when exposed permanently to the elements. Cement based waterproofing slurries are non-toxic, they offer a totally bound and seamless surface without joints, the system can easily be applied on substrates with multifaceted surface shapes and compared with other waterproofing applications cementitious waterproofing slurries can be applied on damp and wet surfaces.
Are you experiencing Rising-Damp in your home or office? Contact a Damp proofing Contractor in Durban
Cementitious Waterproofing 1
Cementitious Waterproofing
Cementitious Waterproofing